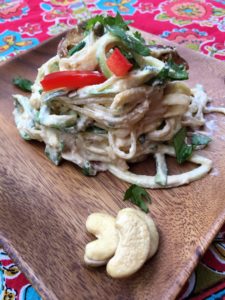 Raw Fettuccini Alcashew
Ingredients
For Sauce:
Soaked cashews

½

lemon

juiced

½

sm. Clove garlic

opt.

Secret ingredient: dash black truffle oil. This is opt. but does take the recipe over the top.

Enough water to make a thick sauce

start small and add until desired consistency.

Blend in a high speed blender or bullet type blender until creamy thick sauce.

Mix into noodles.

Gently fold into noodles and sauce:

¼

cup

destemmed chopped parsley

¼

cup

destemmed chopped cilantro

¼

cup

minced sweet red bell pepper

1/8

cup

capers
Instructions
To Prepare Cashews: For 2 servings, use 1 cup cashews. Soak overnight in plenty of pure water. (remember, the cashews will absorb a lot of water) In the morning, rinse and drain cashews. Now, they are ready to use. You could also substitute macadamia nuts.

Make Noodles with a spiralizer type tool or simple a potato peeler. With the potato peeler method, be sure to keep turning the zucchini as you peel. I also sometimes use Kelp noodles, or a combo. Kelp noodles come in a package and only need to be rinsed under running water, and are then ready to use.

Recipe Notes
I do not normally measure these ingredients, I go by intuition, and what we like, don't be tied to these amounts. Enjoy!