Use gluten free quinoa in place of the more traditional wheat for this refreshing grain salad. The brilliant flavor of the fresh herbs is like a party in your mouth!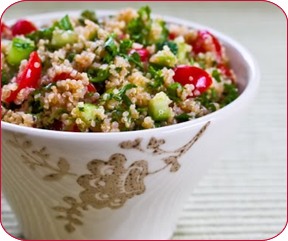 Quinoa Tabouleh
Ingredients
1

cup

quinoa

2

med. Tomatoes diced small

6

scallions chopped small

1

med. Cucumber

English or remove seeds

1

sm. red bell pepper

small dice

1

cup

finely chopped parsley

1/2

cup

finely chopped mint

1/3

cup

freshly squeezed lemon juice

1/3

cup

cold pressed olive oil

1

clove

garlic

minced (optional)

1

tsp. celtic salt

1/8

tsp. cayenne
Instructions
Place dry quinoa in a colander and run cold water over it. It needs to be rinsed well to get the soapy flavor off. (this keeps the birds from eating it)

Place rinsed quinoa in a small saucepan with a tight fitting lid. Add 2 cups water, cover and bring to a boil.

Lower heat and simmer for about 15 minutes, or until water has been absorbed. Allow to cool.

In the meantime, chop all the veg. and set aside.

In a small bowl, whisk together the dressing ingredients; lemon juice, olive oil, garlic, salt and cayenne. Everything gets mixed together in a large bowl.

If time permits, refrigerate for a while to meld flavors, adjust seasoning just before serving.

Voila! Delicious.
Recipe Notes
This dish will leave you feeling satisfied but not heavy. A great salad to bring to a potluck or picnic, or, in a boxed lunch. Goes great served with other Mediterranean type dishes.