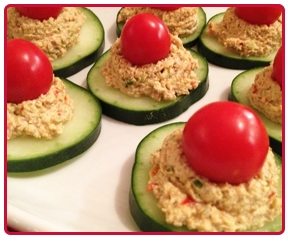 Sunflower & Sesame Seed Pate
Another warm weather favorite is any type of nut or seed pate rolled into a collard leaf. In this case, the delicious Asian inspired sunflower pate.
Soak sunflower & sesame seeds overnight in plenty of pure water (seeds will absorb water) in morning, rinse seeds well under running water and drain in colander.
Ingredients
1

cup

raw sunflower seeds or 3/4 cup sunflower

1/4

cup

sesame
Add to food processor with:
¼-1/2

garlic clove

½

inch

peeled ginger

Few drops sesame seed oil

optional

Pinch

or 2 of cinnamon or 5 spice powder

Pinch

or 2 of ground cumin

Tsp.

agave nectar

or other sweetener

Braggs or Coconut Aminos

½

lemon juice

1

or 2 Tablespoons nutritional yeast

not raw

may add 1 or 2 tablespoons raw tahini or chickpea miso for added flavor & nutrients.
Instructions
Cut into small dice: celery, sweet pepper, carrot, daikon (optional) minced parsley

Put contents of food processor into large bowl and mix in the veg. You can use whatever veg. you like.
Recipe Notes
Spread pate onto nori for rolls, or put inside romaine hearts, roll into a collard or swiss chard leaf, spread on thin slices of sweet potatoes, cucumber, crackers, even as a sandwich spread. As always, adjust flavors to your liking. This makes a great picnic food.